The 2014 Golf tournament is in the planning stages!  Updates will be posted soon.  If you're interested in being a sponsor, please complete the information form at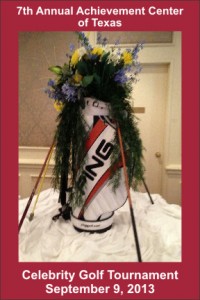 http://www.acoftx.org/golf-tournament/
Today is Tuesday, September 10 the day after the 7th Annual Celebrity Golf Tournament hosted by our friend and supporter Ira Terrell. It was held at Prestonwood Country Club Creek Course so our golfers enjoyed a beautiful course with lots of shade and fun.
This means that after a few days of rest, our organizer Pat Nichols will begin working on next year. A lot of work and effort goes in to planning this event and it starts immediately.  Pat and her  committee work year round planning  this event.  Other volunteers come to help on event day and don't pitch in until weeks before the tournament.
Thanks to the volunteer committee:
Pat Nichols – Chairman
Al & Tom Brezna
Vicky Boutwell
Antoinnette Caulk
Roberta Clark
Dehlia Mendoza
Lori Raso
Jane Sandfort
Carla Springer
Ira Terrell
A special Thank You to Cindy & Jackie LaButta for helping with registration and being our "beer babes" on the course!
Thanks to our supporters because without you, our work would be in vain.
Our Sponsors
Berry Family Services
David B. Miller Foundation
Dr. Henry Mobley
Al & Tom Brezna
Frost Bank
Brentwood Foundation
Benchmark Mortgage
Milt Iskra
Willie LaButta & Team
Rodger Gailey & Team
Steve Milligan & Team
Deborah Wagner Johnson
Reb Henry
Andy Voss & Team
ThermoServ – Jay Rigby
Dr. Paul Grindstaff
Steve Carson
Charlotte Riggins
Cutter & Buck
Custom Awards
GolfSmith
Quilling – Matt Pickelman
Don Knobler
Panera Bread – Cory Chapin and Team
Michael Irvin & Team
RKC Promotional Products
Our Super Celebrities
John Niland
Ken Jolley
Tommy Habeeb
Waddell Smith
Tank Marshall
and our very own special
Ira Terrell
If you are interested in being a sponsor in 2014 or would like to join with your team, contact the Achievement Center and we will forward your information to the golf committee.