Emerging Technology, Part 2: Intellectual Disabilities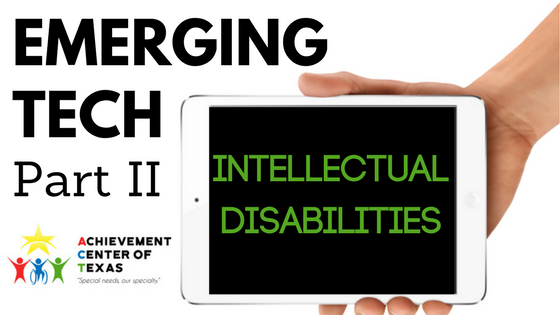 If you haven't read part 1 of this series, Emerging Technology for People with Special Needs: Physical Disabilities, you can check it out here.
When assistive technology for those that have special needs comes to mind, physical aids tend to be more commonly known. However, with the recent and rapid development of tablets and apps, many new options have been presented for those with Intellectual Disabilities.
What Are Intellectual Disabilities?
Intellectual Disabilities can be categorized under Adaptive behavior. This is the collection of conceptual, social, and practical skills that are learned and performed by people in their everyday lives.
Conceptual skills—language and literacy; money, time, and number concepts; and self-direction.

Social skills—interpersonal skills, social responsibility, self-esteem, gullibility, naïveté (i.e., wariness), social problem solving, and the ability to follow rules/obey laws and to avoid being victimized.

Practical skills—activities of daily living (personal care), occupational skills, healthcare, travel/transportation, schedules/routines, safety, use of money, use of the telephone.




Standardized tests can also determine limitations in adaptive behavior. (

Source

)
Intellectual disabilities, depending on the severity, can cause a person to need assistance with a number of daily tasks, including social interactions, personal hygiene, dressing, eating, bladder and bowel relief and more.
Tablets/Iphones/Androids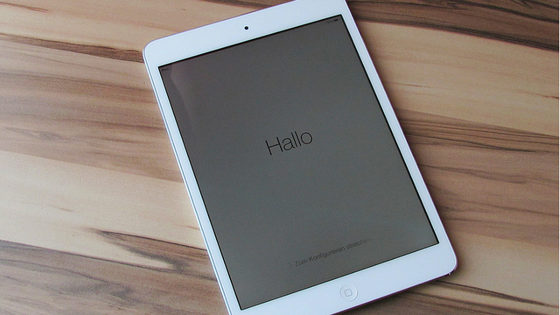 Over the last decade, the popularization of these handheld smart devices and rapid development of their technology has deeply impacted our society as a whole. It puts the ability to access nearly any and all information at the tip of our fingers on the daily. This has done wonders for those with cognitive needs!
The creation of apps that assist with learning and comprehension is ongoing and exciting. The main three ways these devices are helping include:
They help as communicators

They assist with being therapeutic

Educational Tools

Behavior Monitors
This being said, just the devices alone don't amount to an end all be all solution, there has to be a deeper understanding of what an individual needs to gain from the use of these devices before seeing any improvement in their abilities or quality of life.
8 Apps to Look into

Some of the following top rated apps have been featured in magazines, websites and been spread around the special needs community and have helped so many individuals with their personal development:
There are hundreds of apps out there for all levels of intellectual disabilities and these just barely scratch the surface but are a great place to start!
Milo the Robot for Autism
As we are being ushered into a new age, robots are actually set to be commonplace in assisting with our everyday lives.  These robots aren't what we really imagine from pop-culture predictions over the years but have been shaped into things like smart home tools such as Alexa and Jiro.
One robotic device that we have here at the Achievement Center is Milo!
Here's what Milo can do:
Express empathy

Change facial expressions

Model appropriate emotional response

Teach appropriate social behaviors
Milo is a non-threatening way for learners with ASD to practice their communication and social skills;  Milo delivers lessons verbally. As he speaks, symbols are displayed on his chest screen that will help your learner better understand what he is saying. Throughout the lessons, Milo will ask your learner to watch four to five second video clips on the student tablet. The videos show learners displaying the skills or behaviors both correctly and incorrectly that Milo is teaching. Your learner will be asked "yes" or "no" questions to determine if the learners in the video are doing the behaviors right or wrong. (Read more about Milo here).
Sign Up for enrollment with us if you or your child believes that they would like to interact or learn with Milo!
Donate to ACT to Provide Intellectual Disabilities Tools to Students
As our knowledge bases expand and our studies continue, we are moving forward at a rapid pace with the exploration of assistive technology. These examples given are just a jumping off point, and we always have a lot more to learn.
We are always accepting any and all donations to help provide these resources to those in our community. Recently, we received a grant from EcoLab that enabled us to purchase 10 new iPads for our students to use, and we're waiting for donated cases from Otterbox to ensure the longevity of those items.
It's through the help of people like you that we make these materials accessible and functional. To donate cash to our center, click the button below. To donate items, come up to our center anytime during office hours. (Our address and office hours are located at the bottom of every web page.)
Have a Child with an Intellectual Disability? Enroll Them Now!
If you have a child or ward with an intellectual or developmental disability (IDD), such as Autism, Down Syndrome, TBI or otherwise, consider enrolling them in our center. We are doing everything we can to improve the quality of life of our students by helping them achieve personal goals and inviting them to explore their own creative identities.
We accomplish these tasks through our Arts Exploration program, Day Habilitation, Life Skills training and so much more. To start the application process and get on the waiting list for our center, click the button below and fill out the form.
About the Author
Allison Vickers is a recent graduate of UNT and has an affinity for all things related to dogs. A data analyst by day, writer by night, Allison thrives off of giving back to the communities she is a part of. Though her writing skills may be slightly above sub-par, she loves learning and educating people about how to love a little harder.