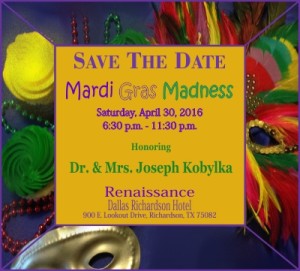 Get your tickets now for the 20th Annual Spring Gala honoring Dr. & Mrs. Joseph Kobylka as our 2016 Champions Who Care.
Dr. Kobylka is our immediate past President and the legs of Team Jeff at our Annual ACTion Walk/Run.  He is a Professor of Political Science at SMU. Mrs. Kobylka is an Interior Designer specializing in large acute care hospitals and outpatient facilities.
They have 3 children, Keith, 31, attorney in NYC, Jeff, 28, ACT client for 20+years, and Kevin, 24, mechanical engineer in Dallas.
Come out and join the fun on April 30, 2016 at the Renaissance Hotel at 901 Lookout Drive in Richardson.  Click here for tickets or visit AchievementCenterofTexas.org/tickets.