About

Ready to Tee into Fall?
It's time for the 8th Annual Golf Tournament with Ira Terrell and Friends, supporting our fundraising efforts.
Join us for a day of fun and golf at Firewheel Golf Park in Garland.  We hope to raise exposure for Achievement Center of Texas and the City of Garland so people will learn more about the community we serve and love.  We have students from all over the metroplex but the center is in Garland so this is a perfect way to bring attention to our lovely city! Click on the picture to go to our online registration page.  We are asking golfers to register online even if you want to pay on tournament day so we know how many to expect!
Our Purpose: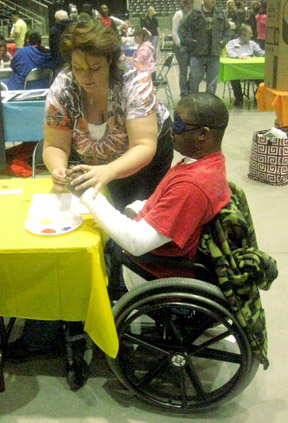 It is the purpose of the Achievement Center of Texas to provide day care, day habilitation (life skills training), arts exploration, educational assistance and community inclusion for children and young adults with special needs.
In providing these services it is our goal to:
Provide a means for parents to work, reducing their need for public assistance.
Broaden the scope of opportunities available to people with disabilities, and break down the barriers that keep them from making choices and enjoying a fulfilling life.
Develop programs to foster independence, communication and build self-confidence. Discover talents and help develop them providing opportunities to showcase those talents for increased enrichment in life.
Help young people to develop social skills so they can make friends and maintain those friendships.
Help to reduce the stress in families with disabled individuals and reduce the incidence of stress-related child abuse.
To provide parents with information needed to help them cope with daily challenges and to link them with other agencies that provide additional support to families with children or young adults with special needs.
Educate the public to the abilities of the individual and encourage the community to join in efforts to support those abilities.