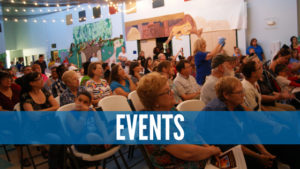 Achievement Center of Texas has a number of events that it hosts throughout the year, some of the at the center itself, larger ones at off-site locations. Some of these events help us raise funds for our center, making it possible for us to provide outstanding service and educational opportunities for our students. All of these events are for the purpose of uplifting and celebrating our students with special needs.
ACT Gala - Kentucky Derby Themed
On Saturday, June 9, 2018 from 7:30 to 11:30 p.m. (CST), we'll host our Annual Gala, a formal fundraising event, at the Garland Atrium. This year's gala is Kentucky Derby themed! We'll display past races (taking care not to give away the years for the race as the start) and take bets on the winning racehorse. We will also have a hat contest for ladies and all other participants. To take the theme home, we'll also have a "winners" photo op.
In addition, we'll have a keynote speaker, a silent auction, a grand trip raffle and a wine pull. You have the ability to bid in our silent auction through this portal without even purchasing a ticket. The other opportunities are only presented to those who attend the gala.
Click the "Bid on Items" button below to bid the silent auctions that are available to bid on.
With the purchase of an individual ticket, you have access to our all-you-can-eat heavy hors d'oeurves, one seat at a table and three (3) drink tickets. Additional drinks are available for purchase, but are not included in the price of one individual ticket. You may also reserve a full table, which includes 10 tickets and all that comes with an individual ticket purchase for each admission.
Click the "Register" button below to purchase a ticket.
If your company or organization would like to sponsor this event, you can purchase our Silver ($5,000), Gold ($7,500) or Platinum ($10,000) sponsorship packages through this portal as well. All the benefits for each are listed under each title in the "Sponsor the Event" tab.
Click the "Sponsor" button below to become a sponsor.
All proceeds contribute to the center's overall goal of helping our students with special needs reach their highest potential and achieve their personal goals.
Special Arts Festival

The Special Arts Festival is a day of hands-on fun and activity! Our students work all year long to perform here. At the Special Arts Festival, we have live entertainment spotlighting our students along with students from other programs.
Attendees participate in activities and take home their finished product. You never know who will be there but our special guest, partner and founder John Bramblitt is always offering guidance and hands-on painting advice.
The Special Arts Festival takes place at Spring Creek Church in Garland, TX across the street from the center on Saturday, March 24, 2018, from 9:30 a.m. to 2:00 p.m.
Summer Show
The Summer Show is a talent show that is held at the end of the summer. This show celebrates the artistic achievements of our students. This year's show will include a student production of The Lion King, including student narration, acting, dancing and singing. The set was also made by our students, with the help and supervision of their teachers.
The Lion King production will be held at the center on Friday, August 18th, from 7:00 p.m. to 9:00 p.m. Everyone is invited to watch the program where students showcase their talent and interests. Admission is free, but there is a suggested donation at $5.00 per person who attends.
Other Summer Shows have brandished some of our students' achievements in their Hip Hop Dance Class.
You can see the dance crew, ReACTion, strut their stuff at the 2016 show below.
ACTion Walk 5K
The ACTion Walk 5K will be held on October 28, 2017 from 11 a.m. to 3 p.m. at Holford Park in Garland. We are trying to raise funds to purchase two new changing tables for our center.
The ACTion Walk 5K is sponsored by:
Several teams setup for a little friendly competition in fund raising. Sign up to be one of those teams today! Individual registration is $25.00, but registration for a team of five is just $100.00. Select the "Register" button to first fill out the waiver. Once you click "Sign Up," you'll then be redirected to a page where you can register.
You can also sign up to sponsor the event as a corporation, business or nonprofit. We would be happy to partner with you.
It's too late to register for this event, but you can purchase a T-shirt from the ACTion Walk 2017 by clicking the button below.
ACT's Got Talent
ACT's Got Talent has already passed this year, but check out this video from the show. Keep an eye out for this event around Fall of 2018.
We want to showcase the many talents of our students, their friends and families. That's why we host ACT's Got Talent! The purpose of this show is raise funds and awareness for Achievement Center of Texas.
Proceeds for the event will be used to support our Arts Exploration program, purchase art supplies and fund scholarships for students who can't afford to attend our Dance Classes.
We're looking for
Comedians
Magicians
Dancers
Singers
Musicians
Actors
And more!
All acts should be family-friendly and no longer than 5 minutes.
Artwork created by our students will be displayed and sold at the event. We'll also be selling baked good and items that will be perfect for gifts for the Holidays.
Even if you're not interested in performing, support us by attending the show.