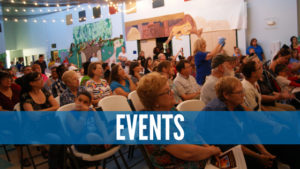 Achievement Center of Texas has a number of events that it hosts throughout the year, some of them at the center itself, larger ones at off-site locations. Some of these events help us raise funds for our center, making it possible for us to provide outstanding service and educational opportunities for our students. All of these events are for the purpose of uplifting and celebrating our students with special needs.
Santa Clause is coming to ACT. You read that right! Santa Clause, himself, will be making an appearance at the center for Breakfast With Santa on December 8th from 10:00 a.m. to 12:00 p.m.
We will be serving pancakes, sausage, coffee and orange juice for our guests and students to enjoy. For entertainment, there will be a performance by, Class Act, a local dance group, photo opportunities with Santa, caroling and more.
One of the best parts about this event is that everything is FREE! There's no need to RSVP. Just gather all your family and friends and join us for this fun Holiday festivity!
This event is sponsored by The Town North Optimus Club.
Morgan's Wonderland Trip: #ACT2MORGANS
Morgan's Wonderland is an "ultra-accessible" theme park located in San Antonio, Texas. As mentioned on their website, the park is a completely wheelchair-accessible park and features more than 25 attractions including rides, playgrounds and more. Morgan's Wonderland is the perfect destination for ACT students and their families. So, next summer ACT is planning to take a trip to Morgan's Wonderland.
The center and the Booster Club will be making every effort to make this trip possible for our students through fundraising. Please note, that our fundraising goal is to pay for one student and one chaperone. Each additional person will be $100. There is a $50 deposit that must be made by December 21, 2018. This deposit will be given back as spending money during the trip.
If you are interested in going, please fill out the interest form by August 31. You can also directly donate to the #ACT2Morgans Fund.