Special Needs Parenting with Pride: An Interview with the Founder of The One in a Million Baby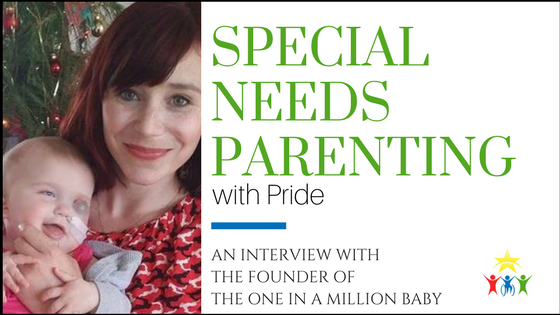 The One in a Million Baby began as the personal blog of a woman named Tessa, whose daughter was born with CHARGE Syndrome. The symptoms that specifically effected Tessa's daughter Eva include:
Blindness
Deafness
Reduced corpus callosum
Atrial Septal Defect
Unclosed PDA
The One in a Million Baby blog recounted Tessa's experience mothering a daughter with special needs and noted Eva's developmental triumphs.
After Eva passed away in February 2015, Tessa launched a podcast as a way to support other parents of children with special needs. Episode 16, with guest host Kelsey Dilts McGregor, features Tessa telling her own story from start to finish.
Tessa agreed to do a short interview with Achievement Center of Texas, and we're so delighted to share that interview with you now.
Tell Our Readers Who You Are
Question 1: Could you please give our readers your 30-second elevator pitch? Who are you? What is important to know about you?
Tessa Is the Creator and Producer of The One in a Million Baby
"I'm the creator and producer of the podcast The One in a Million Baby. The podcast explores what it's like to be the parent to a child with disabilities or complex medical needs.
"Each month I talk to a different family about their journey from diagnosis to acceptance and beyond. The aim of the podcast was to create a place where people could be honest about the good and the bad, so that other families out there will feel less alone in their own feelings and thoughts."
What Was Your Experience with Special Needs before You Had Your Daughter?
Question 2: What was your experience with people with special needs before you daughter was diagnosed with CHARGE Syndrome?
Tessa's Experience with Special Needs were Limited before The One in a Million Baby
"Very limited. I'm a high school teacher, so of course in my class room I have children with learning disabilities, but often the students with more severe disabilities are kept out of mainstream classrooms.
"So I had very little experience or knowledge. It meant that when Eva was born I had a false idea in my head of what it meant to be a parent of a child with disability. I thought they should be pitied, I thought it was the worst thing that could happen to me. I was wrong, and I'm so glad I was shown that."
Why Did You Start The One in a Million Baby Blog?
After reading your entries and listening to your interview with guest host, Kelsey Dilts McGregor, I was captivated by your visceral honesty. What made you first realize you wanted to openly share your experience parenting a little girl with special needs?
Tessa Wanted to Tell Her Story on The One in a Million Baby
"My story isn't easy to tell.
"When Eva was born and her diagnoses were pouring in, I didn't cope well. I had bargained with myself about what I could handle. I told myself I could handle blindness, I could handle intellectual disability, but then when she was also diagnosed as deaf, I crumbled.
"Eva's Dad left the picture and I just couldn't cope. I put Eva in foster care for two months to sort myself out and when she came home again I was on antidepressants and seeing a counsellor. But before then, I was a mess. I'm not proud of that time, of how I reacted."
Tessa Wanted to Show Other Parents They Aren't Alone
"Now that Eva has gone I feel a huge amount of regret. But I also know that it was how I reacted, which means other people might feel the same. So I share my story to show another parent in my shoes that they aren't alone. That how they are feeling is ok, and that it will get better.
"I want to show that if I felt the way I did and took the actions that I did, and I got through it, and was happy that I had, then they could to. So often all you hear are the overly positive stories where parents take to this life without any qualms or concerns. Hearing those stories didn't help me because I didn't feel like one of those amazing parents.
"So I wanted to create a place where I could share my story, and that of other parents, so more than one narrative was represented."
How Involved Was Your Family in Raising Eva?
Question 4: How involved was your family in Eva's life? Did they have a hard time adjusting at first? What did their involvement (if any) look like?
Tessa's Family Supported Her
"My family struggled with Eva's diagnosis, as I did. They were primarily worried about me and what my life would look like. But when I brought Eva back home with me they were on board with that decision and they supported us a lot."
Share Some Home Signs You Invented for Eva
Question 5: In your interview with Kelsey Dilts McGregor, you mentioned that there was no universal language for deaf-blindness and that you were making your own.
This was really amazing for me to hear, and I was wondering if you could share with us some of the signs you invented?
Tessa Adapted Signs from New Zealand Sign Language
"I based my sign language with Eva on NZ Sign language and then adapted it where I could.
Some of it I just made up because I needed a way to communicate with her. I used to tap her three times gently on the chest before I picked her up. I tried to combine a number of elements. So for example touch, smell, texture."
Tessa Created Routine Textures for Activities
"When I was giving her a bath I drew a backwards S on her tummy and got her undressed on the same sheepskin rug every time. I would repeat the backwards S before I put her in the water, and I always dipped her toe in first so she knew what was coming.
"Eva was blind and deaf so I wanted to create as many other ways to communicate. I had plans to create a series of swatches of material to use to tell her where we were going. So one for the hospital, one for home, one for day care.
"It took a lot of thought and planning but once it was in place it was ok. It just meant I had to tell anyone Eva stayed with about the system and we all needed to be working together and consistently."
Why Did You Continue The One in a Million Baby after Eva Passed Away?
Question 6: I know that Eva's death was horrible and abrupt. I'm so sorry to hear about your loss – when I read that Eva had passed during the course of my reading your entries, it just about knocked the wind out of me so I can't imagine what that must have been like.

I think it was really brave of you to continue posting after Eva's passing. What pushed you to continue the blog? Where did you find the strength?
Tessa Feels Closer to Eva When She Writes about Her on The One in a Million Baby
"The blog and writing was therapy for me after Eva died. When I wrote about her she felt, and feels, closer to me. So I kept writing. It's like when you write a letter to someone, it's almost as if you're talking to them, the blog, and writing about Eva was the same."
Why Did You Start The One in a Million Baby Podcast?
Question 7: When did you first start your podcast? What led you to use that medium in addition to your blog? How is the content of your podcast different to your blogs, and how can it benefit your audience?
Tessa Wanted to Give Parents Better Access to the Special Needs Community
"Initially I had an idea to create a book of essays, with myself and other parents contributing. I'm primarily a writer, that's where my skill set lies, so that idea seemed obvious.
"Then I thought about myself when Eva was born, how I barely had the concentration to go on facebook, let alone read a book and that's where the idea for a podcast came in. I wanted a way to connect with families, where they could plug in and listen, not have to interact or communicate or even concentrate.
"I wanted something that could keep them company at 3am when they were awake by their child's hospital bed. I wanted comfort and intimacy and I think the podcast is a perfect medium for that."
What Does a "Quality, Good Life" Look Like Now that Eva Was in Your Life?
Question 8: I read the article you wrote entitled "When a Man Asked If My Baby's Death Felt Like a Relief." To say that it made me emotional would definitely be an understatement. After reading it, I feel … different. I'm still mulling over how it affected me. This part in particular was life-changing:
"Trying to define her worth by saying she was a happy baby is not enough to me now. Her life had quality and an essence all its own. She was a person. She didn't have to be happy for anyone else but herself. She didn't have to prove anything to anyone. She showed people a lot, but that wasn't her duty. She existed and experienced and laughed and loved. She owed no one anything. Just as I owe no one anything. And you owe no one anything."
You also mentioned in your interview with Kelsey Dilts McGregor that you had an image of what a "quality, good life" looked like before Eva came into your life.
Could you tell our readers what a "quality, good life" looks like to you now? How did Eva's life impact the way you view your own? And the way you view the lives of others?
Before Eva, Tessa's Idea of a Good Life Was Ableist
"I had this idea of what a good life was, and it was a very ableist idea.
"It centred around intelligence and being able to follow a path that I had taken, and my parents had taken. Being good at school, going to university, getting a good job. It was about being a part of a capitalist society really.
"But now, I see I was wrong."
After Eva, Tessa Thinks a Good Life Is about Happiness
"A good life is about love and happiness. It's about small things, small enjoyments, small moments that are actually big. It's about being around people you love and experiencing things that excite and inspire you, whatever that looks like for you.
"For Eva it was about warm baths and cuddles. She enjoyed foreswirls and touch and rolling around the floor. She loved to be close to people. She showed me that my idea of a good life were so off, so wrong."
Do You Plan to Have More Children?
Question 9: I read from your latest blog that you recently got married! Congratulations! Do you plan to have children again in the future? Why or why not? Would you consider adopting? How do you feel about adopting children with special needs?
Tessa Isn't Sure If She Wants Another Child
"Good question. I don't know if I'll have more children. It's not about worrying that I might have another baby with extra needs, my goodness I would love that, but it's just something I'm not certain about in itself.
"I have thought about adopting, and I have also thought about adopting children with disabilities. When I was struggling with Eva, an amazing foster family stepped up and took Eva for two months. I have a close relationship with them still and I kept them in Eva's life after she came home to live with me.
"What they did for me is so amazing and important and I would love to be able to do that for someone else."
You Can Help People with Special Needs and Support Their Parents
We at Achievement Center of Texas love the honestly and support that Tessa expresses in her blog and podcast. Subscribe to her website, so you can stay up-to-date on her latest experiences and the experiences of other parents.
If you're the parent of a child with special needs, we would love to have your child at our center. Achievement Center of Texas helps children and adults with special needs build self-confidence, explore their individuality and creativity, and form lasting relationships.
To enroll in Day Care, Day Habilitation or one of our fun, extracurricular classes, please click the button below.
Donate to a Center that Helps People with Special Needs
Achievement Center of Texas is a 501(c)(3) nonprofit organization. Everything our students accomplish is thanks to the donations of people like you. It doesn't have to be much to make a difference. If you're not able to donate cash at this time, we are more than willing to accept donated items!
Make a difference – ACT now. Click the button below to help children and adults with special needs.
About the Author
Amanda Woodard doesn't have just one passion, but if you must give her a label, "Writer" would be the best fit. What she has learned about disabilities from Achievement Center of Texas has literally changed her life, and she wanted to help spread the word about the center through her blogs and interviews. When she's not at work, she's reading mystery novels, practicing self-care and learning new things. For more about Amanda, visit her website.