10 Best Books for Parents of Children with Special Needs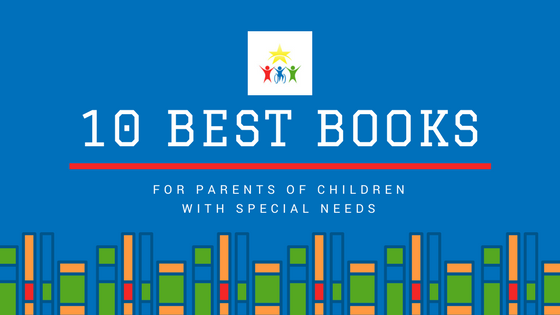 Parenting is hard but parenting a kid with special needs can prove to be even harder. However, no matter how hard (or even easy!) it gets, it's important to remember that it is ALWAYS OKAY for you to ask for help. Problems rise, things happen and sometimes the answers just don't come as quickly as we need them to. Parenting woes can conquer the best of us, so here's a list of books to help you on your journey raising your child with special needs.
1. The Out-of-Sync Child: Recognizing and Coping with Sensory Processing Disorder
by Carol Stock Kranowitz
Sensory processing disorder was one that was often overlooked until recently and is now often read as new definition to an old problem. In her book, Kranowitz strongly urges for early intervention and pushes parents to make themselves aware of their children's sensory processing issues from the beginning. She also provides helpful awareness pointers such as recognizing that insurance doesn't always cover the cost of therapy, mainly because the disorder is not included in the latest issue of the Diagnostic and Statistical Manual of Mental Disorders.
Kranowitz also provides useful images and also checklists and questionnaires throughout her book to simplify concepts and present a more comprehensive understanding of her ideas. She writes how sensory processing disorders should be thought of like indigestion- just like an antacid soothes, children needs occupational therapy to smooth their neural pathways. The concepts in her book are also helpful for children with other needs besides sensory issues. Chapter 8 is especially helpful as it talks about building a relationship between your child and their therapist.
You can get it here.
2. The Boy in the Moon: A Father's Journey to Understand His Extraordinary Son
by Ian Brown
This memoir tells the the story of Canadian journalist Ian Brown's journey to understanding his son, Walker, who suffers from a rare orphan genetic syndrome, Cardiofaciocutaneous (CFC). Due to the rarity of the condition, not much research has been devoted to CFC and Brown retells his frustrations about knowing more about his son's condition through his own internet research than the certified pediatricians he sees. Brown writes, "High-tech medicine has created a new strain of human beings who require superhuman care. Society has yet to acknowledge this reality, especially at a practical level."
However, the memoir is strikingly honest and relatable, with Brown's description of the 11 year long fight between himself and his wife over who is getting more sleep. Most importantly, Brown's retelling is able to effectively remind parents that they are their children's greatest advocates and must stand up to help them grow to be their best selves, inside and out.
You can get it here.
3. Will My Kid Grow Out Of It? A Child Psychologist's Guide to Understanding Worrisome Behavior
by Bonny J. Forrest
This book is more of a practical guide that caters to parents who may be worried that their children may be:
depressed
autistic
ADHD
schizophrenic or have an eating or learning disorder.
Dr. Forrest gives plenty of advice to when it comes to the question of whether or not your child will grow out of certain disorders. She provides lists of questions parents should ask when seeking professional help and discusses different studies and "cures" regarding different ailments. Her book also presents a helpful bibliography with links to  scientific journal articles, books and websites. However, the author strongly believes that screening a child always helps since screening either allows for early to access to the resources a child could need or simply provides reassurance to the anxious parent. Forrest stresses the importance of screening by writing, "Although one in seven children has some form of developmental disability, fewer than half the pediatricians in the country screen children for these disorders."
You can get it here.
4. You Will Dream New Dreams: Inspiring Personal Stories by Parents of Children With Disabilities
by Kim Schive and Stanley D. Klein (Editors)
This book hosts a series of heartfelt and moving stories and essays collected from parents of children who have special needs. Parents will truly be able to relate with the emotions shared by other real-life mothers and fathers who are raising children with disabilities. The stories tell how parents of children with cerebral palsy, juvenile diabetes, autism, mental retardation and other life-changing illnesses or injuries mourned for the child of their dreams. However, the stories also tell how they found an unexpected joy in helping their children discover new dreams. This book serves as a reality check, teaching the importance of turning to others in times of need, learning to let go and dealing with disappointment. This book truly provides a sneak peek behind the mask of strength that parents of children with special needs always seem to wear.
You can get it here.
5. The Life We Never Expected: Hopeful Reflections on the Challenges of Parenting Children with Special Needs
by Andrew and Rachel Wilson
When both their children, Zeke and Anna, were diagnosed with special needs, parents Andrew and Rachel Wilson learned to live a life they never expected. This book poses a more spiritual take when it comes learning to accept your child's special needs. The book is raw, honest and real in its portrayals of the daily challenges parents of children with special needs face. It teaches patience and having faith against life's curveballs in a continuous cycle of weeping, worshipping, waiting and hoping. The fight for joy and acceptance is surreal and very relatable.
You can get it here.
6.Being the Other One: Growing Up with a Brother or Sister Who Has Special Needs
by Kate Strohm
This book tackles the question of how siblings are affected when there is a special needs child in the family. Having grown up with a sister with cerebral palsy herself, counselor and health educator Kate Strohm discusses the challenges siblings of disabled children face and how often these challenges are overlooked. Abled siblings often struggle with different emotions, including feelings of isolation, grief and anxiety, which can have long-lasting effects. In compassionate and insightful ways, Strohm explores these secrets feelings and provides coping methods to help work out unhealthy emotions. She provides her takes on different issues based off of her own experiences as well as those of other siblings of children with special needs.
You can get it here.
7. Touchpoints Birth to Three: Your Child's Emotional and Behavioral Development
by T. Berry Brazelton and Joshua Sparrow
While this book does focus on typical developmental milestones, it proves to be helpful to parents raising children with special needs as it shows in what ways a child is attaining milestones at around the right time. For example, these milestones can be verbal if a child has physical disabilities or vice versa. The book recognizes that development not only progresses but also regresses at certain times. While touchpoints are supposed to be universal, Brazelton and Sparrow stress that they are not always applicable to everyone. The second part of the book discusses different development challenges such as allergies and asthma, developmental delays hypersensitivity, speech, language and hearing problems. It also provides information about other issues as well, such as divorce and the influences of television. The book effectively reminds readers that each child is their own individual person and not simply a symptom disorder or disease.
You can get it here.
You can also get Touchpoints Three to Six here.
8. The Complete Guide to Creating a Special Needs Life Plan: A Comprehensive Approach Integrating Life, Resource, Financial and Legal Planning to Ensure a Brighter Future for a Person with a Disability
by Hal Wright
This book focuses more on the concerns that rise as a child with special needs grows into an adult with special needs. It deals with different forms of planning, providing a lot of insight when it comes financial and legal planning especially. Hal Wright is a certified financial planner and a parent of a daughter with Down's syndrome. He discusses how parents should be fair in helping all their children financially but also acknowledges the burdens placed to siblings of children with financial needs.
He writes that just as state disability services "are more extensive for people with developmental disabilities than for those with mental illness or physical disabilities. There is also a greater emphasis on the needs of pre-school and school-age children than for adults." This book is a helpful guide for parents who are looking to plan ahead and figure out the practical intricacies as their children with special needs become adults.
You can get it here.
9. Parenting an Adult with Disabilities or Special Needs: Everything You Need to Know to Plan for and Protect Your Child's Future
by Peggy Lou Morgan
While financial and legal planning is important, emphasis also needs to be placed on actual caring issues as well when it comes to your adult child with special needs. Morgan writes, "All parents deal with the sometimes-paralyzing question of what happens to adult children when we can no longer be there for them. While legal documents are very important, they may not prepare caregivers, nominated representatives or others to understand someone who may not be able to communicate his needs directly."
As her third chapter, "Loneliness is the Only Real Disability,"  suggests, Morgan is an advocate to giving adult children with special needs time and attention. She suggests getting a service dog  but warns that many residential home may not allow them. She stresses that social connections are excruciatingly important, especially if parents are not able to provide some of their time and attention, if any at all. A sample caregiver's manual is also provided in the book as a reference guide.
You can get it here.
10. Ten Things Every Child with Autism Wishes You Knew: Updated and Expanded Edition
by Ellen Notbohm
This book illustrates characteristics that are helpful in shedding light on, although not defining, children with autism. With her inspirational words and iridescent humor, author Ellen Notbohm takes her experiences as a mom of boy with autism and ADHD and turns them into a guidebook that tackles parenting questions from early childhood to early adulthood. She provides the basic guidelines necessary to help parents reach their goals in a relatable and endearing manner. Notbohm also reminds parents that their goal must be to provide their children with the necessary skills to move on to a happy, independent and productive adulthood. She admits that the journey is a hard one that involves several factors but also writes that "the quality of his tomorrows depends on each today that comes before it."
You can get it here.
Conclusion
These books can help serve as a guide for when it comes to parenting a child with special needs. While the techniques and experiences these books share can be helpful, it is important to remember that every child is different. Methods that help some may not apply to everyone. At the end of the day, it is up to you to find out what works best when it comes to helping your child. Parenting is tough, but very much possible. At Achievement Center of Texas, we are here to help you on your parenting journey as well. We want to help individuals with special needs reach a level of independence where they can achieve their aspirations. We work to cater to each student's individual abilities and aim to validate their individual experiences. Individuals with special needs have a lot to share with world. We believe they should be provided the resources and opportunities to grow. Free from any sort of prejudice as they are a gift to the world.
Enroll your child with special needs in our program
If you are a parent of a child with special needs and need some support, please enroll with us at the Achievement Center of Texas. We would love to have  your child at our center and help them and yourself find the self-confidence to discover their abilities. At the Achievement Center of Texas, we are here to cater to the unique needs of children and adults with special needs and to equip them with the independence and creativity to stand up for themselves.
To enroll in Day Care, Day Habilitation or one of our fun, extracurricular classes, please click the button below.
Donate to Achievement Center of Texas
As a 501(c)(3) nonprofit organization, the Achievement Center of Texas is genuinely dedicated to help our students grow and develop. You too can help our students learn to reach a higher level of independence by donating today! We accept donated items as well. Anything, no matter the amount, can make all the difference for our students.
Please click the button below to donate. Every little bit can make ALL the difference!
About the Author
Meraal Hakeem is currently pursuing a Bachelor of Arts at the University of Texas at Austin. In her free time, Meraal enjoys reading, writing and volunteering with various organizations to raise awareness of different human rights issues present in her community.