Employment Opportunities for Adults with Special Needs: An Interview with the Director of Achieve DFW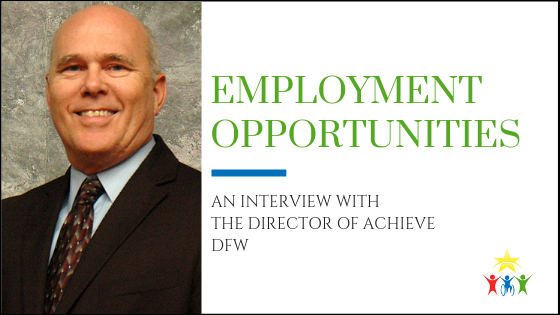 Achieve DFW is a nonprofit organization that specializes in employment placement and work center/vocational training for over 600 adults with physical and mental disabilities in Dallas County and the surrounding areas. We sat down with Tim Allen, the Director of Achieve, to learn more about how this organization fulfills its mission.
Note: The following answers were given by Tim, but some statements have been modified slightly and some answers have been shortened for clarity.
Achieve Works To Eliminate Barriers for Adults with Special Needs
Question 1: Tell me a little about Achieve. What exactly is it that you guys do?
Achieve Helps Those with Disabilities Find and Keep Jobs
Achieve's mission is to empower individuals with disabilities and barriers to work so that they are able to achieve their highest level of employment and independence.
This mission is fulfilled through Community Employment Placement and Work Center/Vocational Adjustment Training.
The high school program [Vocational Adjustment Training for Work Readiness] involves classroom-based instruction for students to identify work-related strengths and interests, identify a career path that matches those strengths and interests and develop the skills to acquire and keep a job. Over a hundred and thirty students were served last year. We plan to serve even more next year.
We have an on-site Work Center where individuals can carry out fulfillment tasks for major companies located in the community. They get a chance to practice cognitive and motor skills through hands-on activities and projects, work on life skills and more at our center.
We call them [our clients] Achievers.
We also partnered with the Texas Workforce Commission and other vocational rehabilitation services to provide permanent job placement for our Achievers.
Achieve Works with Each Individual in a Way That Best Fits Them
We work with each client and try to create a personalized package for them, whether within our center or out in the community.
Not to mention, there's our Veteran Placement Program where veterans with a documented disability can receive employment training and job search assistance. Our goal is to try and get them out of poverty, get them a job and a house, and regain what they've lost. With that said, our veterans have an eighty-five percent success rate!
Our team members are trained on how to match Achievers with the right job and help them learn in a way that makes sense to them.
Matching Achievers To a Job is a One-on-One and Personalized Process
Question 2: What does the placement process look like? How do you place someone in the right job?
Achieve follows a simple process to match clients to jobs
To start the process, we simply listen to the Achiever. What does he or she want? What type of experience does he or she already have?
Then we start the typical job hunting process such as getting together a resume, writing a cover letter and setting them up for success during the interview process. We educate them on how to dress and what to expect during an interview; even doing mock interviews to help them prepare.
The next step is to assign the individual with an employment manager who will assess the individual's skills and work with them one-on-one until Achieve can place them at the perfect job.
The job placement process usually takes about two months. After an individual is matched, they usually stay at the job.
We become a liaison between employee and employer
We communicate what the individual's needs are to the employer and communicate the expectations to the Achiever. The manager could call us at any time and say, "hey, Bob's doing great," or, "we're having trouble communicating."
For example, we trained and hired a young man at Genghis Grill as a dishwasher. Six months in, he decided he was going to wash dishes the way that he wanted. The manager [at Genghis Grill] called us and said: "Hey, Jesse's having some trouble." I gave Jesse the opportunity to look at how things were done at different restaurants we partner with. He was able to observe and better understand why things are done a certain way. This got the light bulb to come back on. Jesse went back to Genghis Grill, and he's been there forty years!
We focus on building soft skills a lot. We work on the things you and I learn at our first jobs while we're young. A lot of them didn't get the chance to develop these skills because of their disabilities.
Checking Up On the Achievers
After the Achiever lands a job, we stay with them for a lifetime.
We call them every year and say "hey, you still there? How's it going?"
It's a lot of patience, listening, coaching, and guiding [the Achievers] into the right job. And then, of course, helping the employer overcome the fears they have. "What's going to happen? Is he going to fit?"
Morale Increases When Workers Have Disabilities
Statistics show if you hire an adult with disabilities, your safety rating goes up because these people are very systematic and robotic in their work.
They're not clowning around, generally speaking.
Morale goes up because the [adults with disabilities] are excited to be there. Attendance goes up too. Some of these guys ride on the DART (Dallas Area Rapid Transit) bus a couple hours before everyone else gets there because they want a job and to be part of the community.
The other workers think, "if he can get there and he's got two disabilities, why can't I come to work?"
There are some situations where it doesn't work. But we pull [the Achiever] out and we try to get them another job. That's where our temp agency can help. We can put them in a temp department and see how they do before they get placed in a job. That way the employer kind of gets to test them too.
What Happens if the Job Isn't Exactly a Match?
Question 3: Do you deal with a lot of terminations?
As With Anything in Life, Sometimes it Doesn't Work Out
Can they get fired? Yes. Not a lot, but it does happen occasionally.
Sometimes it's just that they're not able to successfully perform their job and they get terminated. Usually for soft skills. "Oh, I thought it was okay to say this or do this," or, "My mom lets me do that at home, why can't I do it here?"
Sometimes you do have to go in and mediate and hope that [the employer] will give the Achiever another chance to try and get everything recalibrated. We'll give the achiever at least a couple of shots to succeed.
But if they break a major policy, they get fired like everybody else. Some go through two or three jobs just like you and me as teenagers. Some go, "oh, I liked that job because they had nice cool hats!" Like, "no, I need you to do the job." (laughs)
We try, but again, some of them don't make it.
Achievers Come From All Different Types of Developmental Backgrounds
Question 4: What are some of the IDDs (intellectual and developmental disabilities) that you guys work with?
Our Achievers are all over the spectrum.
We have people with autism, down syndrome and more intellectually challenged people. A lot of our veterans have PTSD. One of our guys came out of a veteran prison, just about six months ago, with a Crane certificate. He couldn't get hired on his own; we got him a job making forty-nine dollars an hour.
We also have a forklift training here, so we send our vets on forklift training. We've got to make sure they know what they're doing, so when they go off somewhere they have the experience and they know what OSHA's standards are.
We try to get them as much training as possible because that just gives them confidence and builds them up.
The Most Common Kind of Jobs Achievers Get
Our sweet spot is that routine job, like manufacturing and warehousing. Janitorial work is good with those who have OCD.
We also have a mobile fleet-washing company we started a year ago. Every week, Achievers go to TxDOT (Texas Department of Transportation) in Mesquite, Cedar Hills, and Hutchins to wash the company's vehicles. It allows them to have a competitive wage-paying job and a fun work environment and helps them build work skills for future employment.
We want to see our Achievers grow.
We started a janitorial company, so we can train them to get a job. Potential employers will ask, "oh, so he's already doing this kind of work for you?" Same with our fleet-washing. It just makes sense to get [Achievers] out of the warehouse, and they love it. People need their vehicles clean, so why not? That's a win-win.
Achieve is Constantly Improving Their Services
We're always trying to expand and help our clients get jobs. We're looking at new training seminars and partnerships with other companies.
My staffing person just got trained as a janitor through a program called ISSA (International Sports Sciences Association). Now she's certified to train trainers.
Achieve is going to start a training program for our crew to come in and learn the basic chemicals, so again, when Achievers walk into a new job, they know the OSHA standards and what they can and can't do. The employer is going to take him or her over somebody that doesn't know anything about OSHA standards.
Achieve Gets Very Involved in the Community
Question 5: Could you go over the Ambassador Program?
Sure. Achieve started the program when I got here about four or five years ago. We would have people from the community come for a meet and greet with our Achievers for about an hour. Then those company ambassadors go out and tell others about what's going on at Achieve.
We want Achieve to become a household name.
A year or two later we created an Ambassador's Society for our Achievers. We've gone to different companies to do a fundraiser or an auction or a bake sale. We took four or five of them from the ambassador's society and they are given responsibility to represent their fellow Achievers.
There's no telling how many there are, maybe twenty or thirty of them. They don't all get involved every time, but they do all participate when the company ambassador's society comes once a month.
Achievers Are Rewarded for Their Work
Question 6: So are the Achievers compensated?
They get paid, yes, by the piece. They can be competitive and still get a paycheck in a great environment here.
They get a job, a sense of belonging, a sense of community, and a paycheck. I tease everybody that the happiest time at Achieve is on payday. They love to work and they love each other.
Challenges Working with the Special Needs Community
Question 7: What are some of the biggest challenges that you face working with people with special needs and disabilities?
Well, they're a joy to work with.
In the competitive market, it's finding the right employer willing to bring [the Achiever] in and to spend a little time with them and integrate them into their culture and the job. The second would be communication, just getting them to understand how he or she can communicate and process things. Once that's established, it's easy for both sides to learn.
Then just finding employers that would be willing to hire [Achievers] and take them in, especially the veterans, with their backgrounds. That is one of the biggest challenges. Because [the veterans] went through war, they came back and had some challenges. Now they're stable, they've got their life back together and they're ready to work, to find that employer that's going to give them a second chance to be successful.
Finding Companies for Achievers to Work With
Question 8: How do the companies find you? Or do you go out and find them?
A little bit of both, but Achieve does most of the looking for companies for our clients to work with. We have eleven people who are job coaches and job placement specialists.
We find job placement partners every way you can imagine. Craigslist, newspapers, referrals. My team and I are a part of networking groups. We're always out there talking, as well as posting on social media.
We try to tell our story and make people aware of the diversity and how much these individuals can do. They fill a lot of tasks that those companies need. Those routine jobs have a high turnover. Once an Achiever gets in there, he works hard and he stays. Some of these guys have been at their current jobs for twenty or thirty years.
We're out looking for the companies, but some of them find us on our website, social media, or just word of mouth.
This Isn't Just a Job; It's a Lifestyle
Question 9: How are you personally involved in the special needs community besides Achieve?
I have a special needs daughter, Rachel, who's twenty-three. I've been involved on the board at her center for about ten years now. Every year we do a big family retreat; this year it's going to be in Dallas.
I volunteer at a lot of churches and I have a special needs dentistry, so I've been involved for a while.
Then there is staff that serves on the DART committee. A lot of our guys are also in the Special Olympics. They still are as adults, and they can bring their medals in. They play volleyball, they bowl and all that good stuff. We also do a 5K Dash for Dignity and one-mile walks. About forty of our Achievers come and walk with their families.
Question 10: Is there anything else that you would like for us to know?
I think that we work with an amazing group of adults. They just need the opportunity to thrive and show what they can do. They're fun to work with.
Probably the best job ever!
I come in every day and they give me high-fives and say "Hey, Mr. Allen!" They love to come to work. Some of them have been on the bus for an hour, but they're still glad to be here, and they look forward to being a part of the community.
Organizations Like Achieve are a Huge Help to Their Communities
Achieve is one of the biggest organizations like this in town. It's a shrinking model. There are about four of us in the Metroplex and we network regularly.
We were talking about challenges earlier. One of the challenges is that the piece rate has been attacked. Some groups don't like that. So we've been trying to keep that going because not every one of these guys can work in the competitive market.
This gives the Achiever a reason to get out of bed and make some money. It helps them build self-esteem. It helps them feel good.
We hope you enjoyed this as much as we did. To learn more about Achieve DFW, visit their website www.achievedfw.org.What questions do you wish we'd asked? Post a comment below!
Help Adults with Special Needs
If you have a child or ward who is interested in doing art and exploring their own individual identity, enroll them now in Achievement Center of Texas. We offer a day habilitation program for adults with special needs.
Click the button below to begin the application process.
Support Nonprofits that Help Adults with Special Needs
It wouldn't be possible to do all that we do for adults with special needs if it weren't for donations from people like you who care.
To donate to Achieve DFW, click this link.
To donate to Achievement Center of Texas, click the button below.